Top 10 Wi-Fi Mesh Routers For Small Businesses
For small businesses, having a strong and stable wireless connection is crucial to business success, whether used for interacting with clients, handling transactions or accessing online resources. To help you decide which mesh Wi-Fi network is most suitable for your business, let's explore our top picks for the best Wi-Fi mesh routers tailored for small businesses and what sets them apart.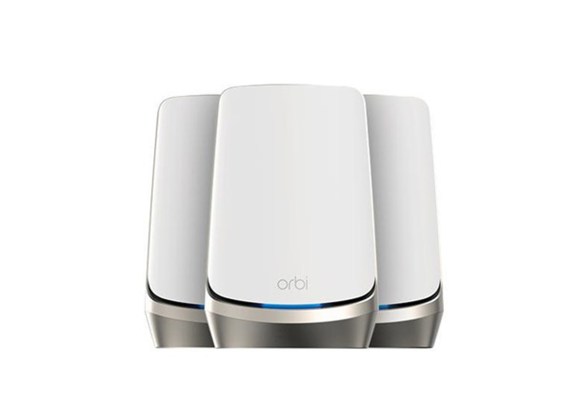 1. NETGEAR Orbi RBKE963: Unrivaled Performance
Standout Specs: Wi-Fi 6E, Quad-band technology (2.4Ghz, 5GHz, and 6Ghz bands), supports up to 200 connected devices, easy setup
Enjoy unrivaled performance and barrier-breaking internet speed with NETGEAR Orbi RBKE963. With a Wi-Fi coverage of up to 7,500 square feet and a lightning-fast 10.8 Gbps internet speed, this gem is simply the best mesh Wi-Fi router, today. Equipped with the innovative Wi-Fi 6E system and quad-band technology, it can effectively eliminate dead spots, providing seamless internet connection from the front door to the top floor. The router's MU-MIMO support also ensures seamless connections for up to 200 devices simultaneously, ideal for bustling small businesses. Plus, it features 13 multi-gigabit ethernet ports to future-proof your Wi-Fi network. Setting it up is a breeze, too, with the intuitive Orbi app providing multiple customization options for guest networks and parental controls.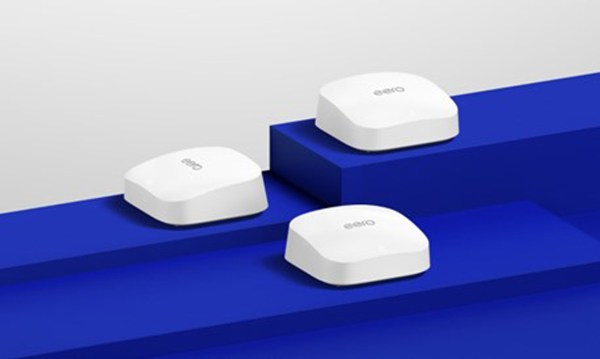 2. Amazon Eero Pro 6E AX5400: Turbocharge Your Network
Standout Specs: Wi-Fi 6E, Tri-band technology, Amazon Alexa Integration
Advance your business with Eero Pro 6E, Amazon's most advanced mesh router. It utilizes Wi-Fi 6E, delivering impressive throughputs, Wi-Fi speeds up to 5.4 Gbps, and coverage up to 2,000 square feet. Though, like the Eero 6, it only offers tri-band technology tapping into the 2.4Ghz and 5Ghz bands. Like other Amazon products, it also integrates with Alexa, allowing you to control connected smart home devices through voice commands.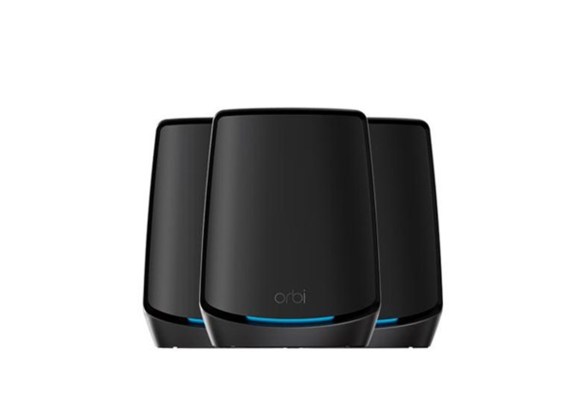 3. Netgear Orbi RBK863SB: Expansive Reach and Speed
Standout Specs: Wi-Fi 6 mesh system, Tri-band technology with a dedicated backhaul, multigig ethernet and USB ports
Experience cutting-edge functionality and performance with the Netgear Orbi RBK863SB. This whole home mesh Wi-Fi shines with an impressive data transfer rate of 6 Gbps, low latency and coverage of up to 8,000 square feet. With Wi-Fi 6 and tri-band technology at its core, it is equipped to handle multiple connections, services and tasks without compromising speed or performance. Like other Orbi routers, it comes with multigig WAN and LAN ports to support multiple wired connections.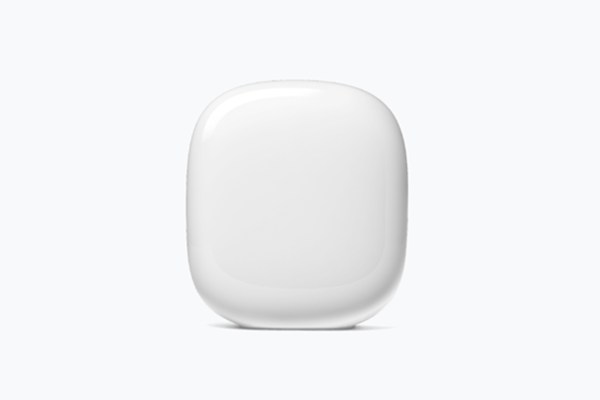 4. Google Nest Wi-Fi Pro 6E: Uninterrupted Operations
Standout Specs: Wi-Fi 6E, Google Assistant Integration
Ensure smooth business operations with the Google Nest Wi-Fi Pro 6E. It guarantees a stable and fast Wi-Fi connection, covering up to 2,700 square feet and supporting up to 200 devices. The powerful AXE5400 connection empowers businesses that rely heavily on online tools and applications. It also integrates with Google Home, making it convenient if you already have a Google Nest Smart Speaker.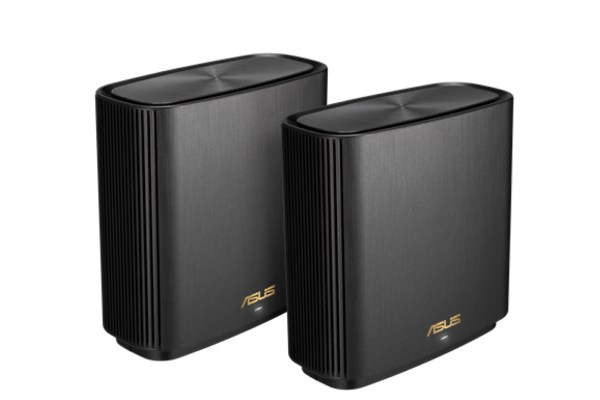 5. ASUS ZenWiFi AX6600: Speed and Security
Standout Specs: Wi-Fi 6, Tri-band technology, Asus AiProtection Pro
Elevate your network with the ASUS ZenWiFi AX6600. Delivering impressively fast speeds of up to 6.6Gbps and covering 5,500 square feet, this Wi-Fi 6 router rightfully earned its spot on this list. Asus' AiProtection Pro feature ensures advanced network security, safeguarding your business data.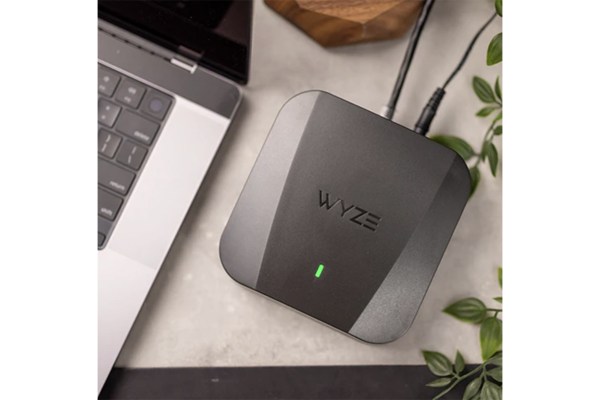 6. Wyze AXE5400 Tri-Band Wi-Fi 6E: Swift Data Transfers
Standout Specs: Wi-Fi 6E, Tri-Band technology, multigig Ethernet ports
Increase your business's data transfer speed with the Wyze AXE5400. Experience seamless operations with Wi-Fi 6E technology and tri-band design, clocking up to 2.5 Gbps internet speed (based on standard speed tests). This router offers multigig ethernet and USB connectivity, granting versatile connection options.
7. Synology MR2200AC: Effortless Network Management
Standout Specs: WPA3, Synology SRM
Simplify network management for your business with the Synology MR2200AC. Covering 2,000 square feet, this tri-band router supports Synology's SRM operating system. Enjoy streamlined control, perfect for businesses without dedicated IT staff.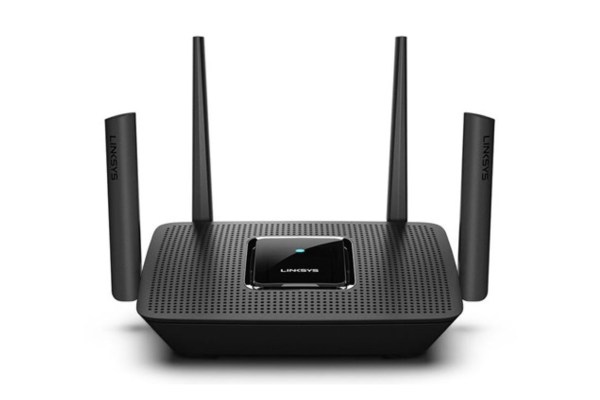 8. Linksys MR9000 Max-Stream AC3000: Stable Connectivity
Standout Specs: Wi-Fi 5, Tri-band system
Extend your network's reach with the Linksys MR9000. With its Wi-Fi 5 system, tri-band connectivity, 3Gbps speeds, and a coverage area of 6,000 square feet, it supports over 25 devices. It is ideal for larger small businesses seeking robust connectivity.
9. TP-Link Deco X20 AX1800: Seamless Roaming
Standout Specs: Wi-Fi 6E, TP-Link Homeshield
Enjoy uninterrupted coverage and seamless roaming with TP-Link Deco X20. Armed with Wi-Fi 6 technology, this mesh Wi-Fi boasts speeds of up to 1,800 Mbps and comprehensive whole-home coverage. It also sports QoS features, WPA 3 encryption, and the trusty TP-Link Homeshield, providing enhanced network security.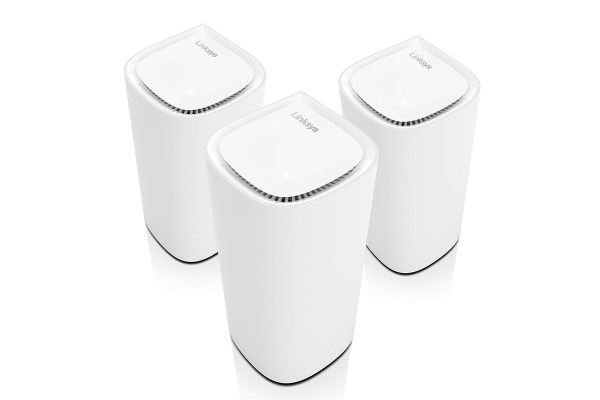 10. LinkSys Velop Pro 6E: Optimized Coverage
Standout Specs: Wi-Fi 6E, Cognitive™ Mesh
Ignite office productivity with LinkSys Velop Pro 6E. Boasting Wi-Fi 6E and Linksys' Cognitive™ Mesh technology, this router promises optimized coverage of up to 9,000 square feet and Wi-Fi speeds of up to 5,000+ Mbps. It also supports MU-MIMO with multiple WAN and LAN ports.
Why Mesh Routers?
Though traditionally viewed as gaming routers, mesh routers are ideal for growing businesses, too.
As your business expands, the number of devices and your need for bandwidth also grows. This is where many traditional Wi-Fi routers fall short, resulting in dead zones, sluggish speeds, and unreliable connections.
That's where Wi-Fi mesh routers come in. Unlike traditional routers that emit Wi-Fi signals from a single point, mesh routers use a system with a main router and multiple nodes strategically placed around your home office to create a "mesh" of coverage. This ensures a solid signal strength no matter where you are in your office.
That said, mesh routers offer several advantages over traditional single-router setups, especially in larger homes or spaces where consistent Wi-Fi coverage can be challenging. Here are some key benefits of using mesh routers:
Seamless Coverage: Mesh routers use multiple access points (nodes) strategically placed throughout your space to create a single, seamless home network. This eliminates areas with weak or no signal (dead zones), which can be common in traditional single-router setups.
Extended Range: With multiple nodes working together, mesh routers can cover larger areas without needing Wi-Fi extenders. Some even offer two-pack, three-pack and four-pack node tiers to ensure comprehensive coverage.
Easy Expansion: If you need to expand coverage, you can add more nodes to the mesh network. This is a much simpler solution compared to setting up additional traditional routers and configuring them manually.
Seamless Roaming: Mesh networks provide seamless roaming for connected devices. Moving from one area to another, your device can automatically connect to the nearest and strongest node without interruption.
Sleek Aesthetics: Many mesh systems come in visually appealing designs that blend into your working space better than traditional routers with external antennas.
Simplified Network Management: With a single Wi-Fi network name (SSID) across all nodes, there's no need to switch between networks as you move around your office.
What to Look for in a Mesh Router
To ensure you're getting the best Wi-Fi router that meets your exact needs, there are several key factors you need to keep in mind. Here are what you should look for in a mesh router system:
Coverage and Scalability: Large homes and multistory buildings require broader coverage. Check if the system supports adding additional nodes or range extenders to expand coverage as needed.
Wi-Fi Standards: Look for systems that support the latest Wi-Fi standards, such as Wi-Fi 6E, for improved speed, capacity and performance.
Bandwidth Requirements: Consider your online activities and all the devices that will connect to your Wi-Fi network– laptops, gaming consoles and whatnot – to determine your bandwidth requirements.
Ease of Setup: An easy setup process, preferably guided by a mobile app, can save time and reduce frustration.
App Management: Check if the system offers a dedicated app for easy wireless network management, device prioritization, parental controls and other features.
Performance and Speed: Consider the maximum data speeds supported by the system, especially if you have high-bandwidth applications like 4K streaming or online gaming.
The number of Ethernet Ports: Some mesh systems include LAN and WAN ports on each node, allowing you to connect wired devices directly for faster and more stable connections.
Backhaul Technology: Investigate the backhaul technology used. Tri-band systems with a dedicated backhaul channel often perform better than dual-band systems.
Security Features: Look for features like WPA3 encryption, VPN, automatic security updates and network-level threat protection.
Guest Network Support: A separate guest network can enhance security by isolating guest devices from your primary network.
Smart Home Integration: If you have smart home devices, ensure the mesh system is compatible and can handle the additional network traffic.
Compatibility: Ensure the wireless router is compatible with your existing modem or ISP requirements.
Support and Updates: Research the manufacturer's reputation for customer support and the frequency of firmware updates to ensure your system remains secure and up-to-date.
Elevate Your Wi-Fi Experience Today
With cutting-edge features, mesh routers ensure that every corner of your home or office is a hub of high-speed connectivity. Remember to choose wisely – evaluate coverage, performance and compatibility.
Embrace a connected lifestyle with reliable, fast Wi-Fi. Upgrade to mesh routers, today.
Members of the editorial and news staff of the Las Vegas Review-Journal were not involved in the creation of this content.